Jul
13
Types of Wedding Cake Flavors: The Definitive Guide
Jul 13, 2022
By Wedding Spot
There are so many different types of wedding cake flavors that it seems almost impossible to choose one. From traditional chocolate to eclectic passionfruit, there are seemingly endless possibilities. That's why we created this guide — to help you make an informed decision on the best wedding cake flavors for you, your partner, and your party. Keep reading to discover how to wow your wedding guests with one of these many different types of wedding cake flavors you will need to know before you schedule that tasting.
Your menu of wedding cake flavors to choose from includes timeless flavors, unique flavors, flavor combinations, and fillings. We take a deep dive into each of those four categories — which can be combined to create the perfect custom wedding cake for your big day — below.
Types of wedding cake flavors that are timeless
First, we explore the types of wedding cake flavors that have remained popular over the years. These traditional types of wedding cake flavors are staples for a reason. They each pair well with a variety of fillings, frosting, and toppings. They're also universally loved and make for a foolproof wedding cake.
1. Vanilla
You may or may not be surprised to find that vanilla-flavored cake is number one on the list. It's great for all ages and offers varieties such as Mexican to Madagascar that are far from boring.
2. Chocolate
Choose between milk, dark, and white. Go all out with chocolate filling or frosting or break it up a little with fruits, vanilla frosting, or peanut butter filling. The options are truly endless. 
3. Yellow
White wedding cake uses egg whites while yellow wedding cake uses whole eggs with their yolks, giving it its signature hue. It's often compared to white cake but with a richer taste.
4. Red velvet
Not only is red velvet wedding cake delicious, but it's also a show-stopping color that looks beautiful next to holiday wedding decor. Combine with a classic cream cheese frosting your guests will love.
5. Coconut
Whimsical yet elegant, the coconut wedding cake flavor is perfect for summer or tropical-themed weddings. It works well with vanilla, buttercream, or cream cheese frosting with shaved coconut flakes on the side and cherries on top.
6. Strawberry
Use whole berries for a very attractive slice cutaway or layer in strawberry puree. White chocolate, cream cheese, and buttercream are great pairings.
7. Raspberry
Combine with lemon, white, or almond cakes and filling.
8. Lemon
Lemon cake or layers of lemon curd are great for wedding cakes. Pair with berries, elderflower, or even herbs such as lavender and mint.
9. Almond
Add extract to the cake batter or almond slivers as cake decoration. The almond wedding cake flavor tastes great with white cake, vanilla cake, and sour cream frosting.
Types of wedding cake flavors that are trending
Wedding Spot spoke to Lori Bogedin, a chef and culinary expert from Pennsylvania who has owned and operated TwigsCafe for over 22 years. Here are her picks for trendy wedding cake flavor combinations.
1. Chocolate and raspberry 
"It has the perfect blend of sweet and tangy which is ideal for a summer wedding," says Bogedin. We suggest a chocolate cake layered with raspberry compote and frosted in a rich chocolate ganache.
2. Banana coconut mocha
Add some almonds or macadamia nuts for an extra special twist on this unique wedding cake flavor.
3. Spiced pear with chai tea icing
Perfect for a fall wedding! If chai isn't your thing, go with brown butter or cashew frosting instead.
4. Ginger and passionfruit
This type of wedding cake flavor combination tends to include chiffon or mousse. Add in pineapple or raspberry if desired, and watch your guests flock to the dessert display. 
Types of wedding cake flavors based on filling
Another great way to mix unique flavors into your wedding cake is in the filling. We explore a few of our favorite options below. 
1. Fruit jam and preserves
The most popular options are strawberry, pineapple, apricot, lemon, and raspberry, but you really can't go wrong with any type of fruit.
2. Sweet creams
Choose between buttercreams, chocolate, cookies and creme, and countless other cream-based fillings in between cake layers or placed in the center of the cake.
3. Ganaches
You can't go wrong with chocolate or caramel ganache.
4. Crunch
Sometimes it's nice to incorporate a little extra texture into your wedding cake. The most common options include Oreo or cookie crumbles, granola clusters, and spiced apple chunks.
What to consider when choosing between wedding cake flavors
1. Don't people please
"A tip we tell our couples is, literally do not pick a flavor because that is what you think your guests want," said wedding expert and videographer TJ Smith of Found Home Films in an email to Wedding Spot. " ... Pick a flavor you love. The amount of wedding cake we've seen wasted is unbelievable!"
You can, however, think about your wedding dessert menu as a whole. As Bogedin adds, "be mindful of the other components on your menu. It's best that it complements the overall theme of your wedding."
2. Incorporate seasonal flavors
Wedding Spot spoke to chef and coffee expert Melissa Collins from Perfect Brew for her take on what makes the perfect wedding cake flavor pairing with a cup of after-dinner caffeine.
"While choosing the wedding cake flavor, always go for seasonal options. Having a fall wedding? Try pumpkin cake with a delicious cream cheese frosting," says Collins. "Allow the seasonal flavors to guide your wedding cake adventures."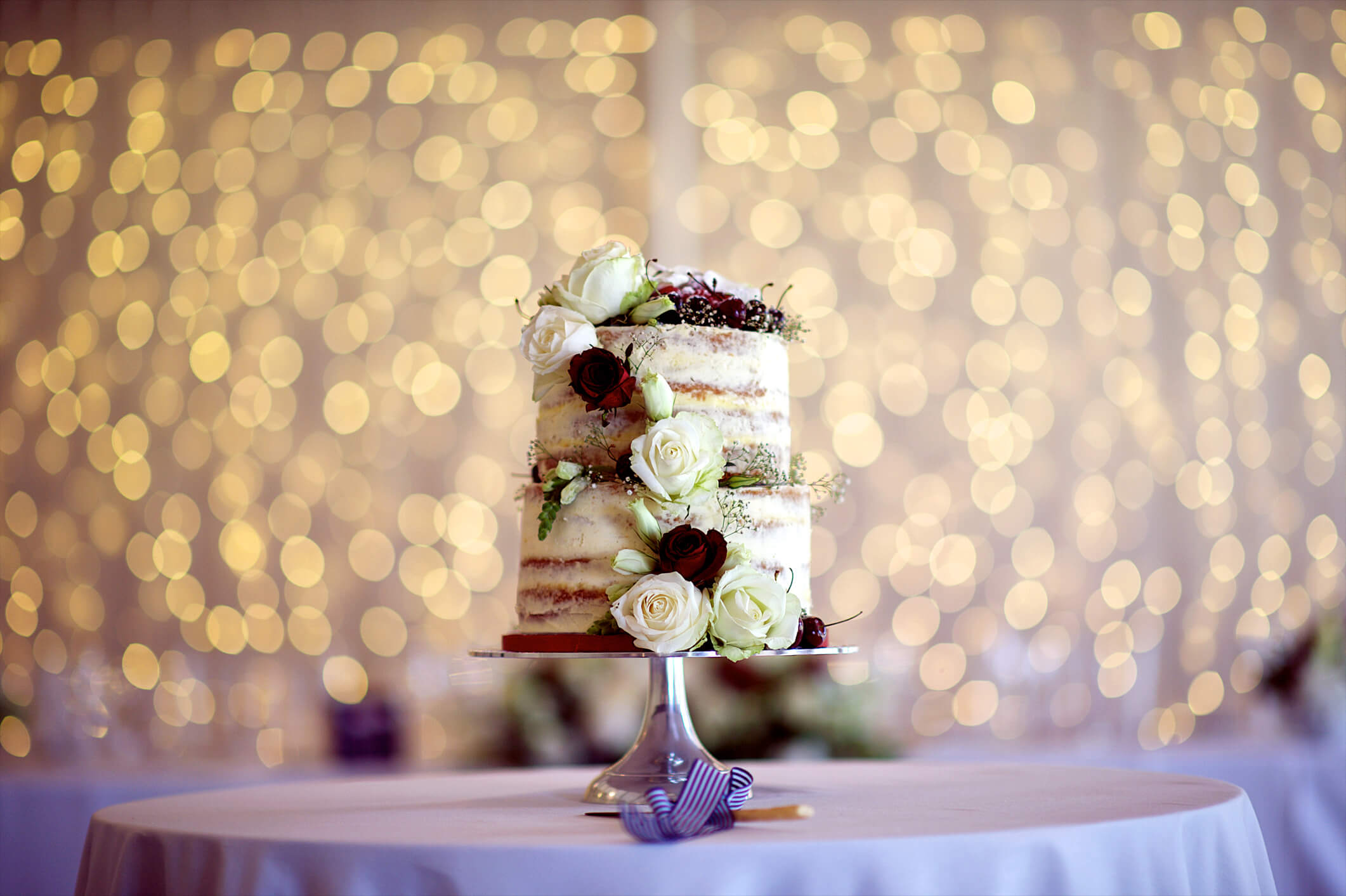 Bogedin from TwigsCafe also weighed in on this.
"For a summer wedding, a refreshing passionfruit flavor with a light buttercream frosting does the job. But on the other hand, autumn weather demands a rich decadence flavor and the taste of berries combined with dark chocolate is just what you need. This mouth-watering treat will be one of the most memorable parts of the event."
You can also choose a flavor that represents your region. For example, the aforementioned Smith, who's based in Ireland, tells Wedding Spot that the hot new flavor taking Ireland weddings by storm is Guinness red velvet cake.
3. Cater to food allergies
Collins also offered insight into how to handle food allergies and restrictions when it comes to wedding desserts. First and foremost, make sure to plan ahead.
"Ask guests in advance by handing out response cards," says Collins. "Include a field in the card where guests can tell about their allergies and dietary restrictions."
This can be done in the RSVP section of your website or in physical RSVP cards. Make sure the response card offers room to add details.
"Include a section where they could mention if the allergies are severe. For example, some people are allergic to eggs but can consume them. But the person severely allergic to eggs can not even consume one," Collins notes.
You can also care for food allergies at the wedding. Collins suggests labeling the items so that the guests are well aware of what's included in the dessert. "For example, gluten-free, dairy-free, vegan, and nut-free are some of the labels you can incorporate," says Collins. "This idea works well when there is a wedding dessert buffet station."
Bogedin adds that you should never be shy about discussing allergens with your catering team because they can easily swap in alternatives. We also know they care just as much about your guest's safety as you do.
4. Have options
You can always have a special cake flavor reserved for a small version you keep for yourselves and another, more universally-popular flavor for your guests. You may even want to order multiple flavors of cake or cupcakes.
As Smith adds, "To be honest, most of our recent couples have gotten a decorative fake cake for a 'faux' cake cutting photo op, but then got multiple sheet cakes in their dream flavors. It not only works out much cheaper and easier to get correct numbers for extra large/extra small weddings, but the cake also tends to be fresher."
On the other hand, Collins says to keep it simple. "Always make sure to go with one type of flavor only," says Collins. "Do not make things complicated for the baker as well as the guests. There is no time during the event to go around and ask people about their flavor preferences."
Bogedin agrees with Collins but offers a solid compromise. "I believe it's best to serve one flavor. But if you and your fiance have a hard time deciding on one, you can experiment — taste different cakes and narrow down the best options. Additionally, if you have the budget to afford several options, then each tier can be a different flavor depending on your preferences."
Our takeaway from these conflicting opinions? Talk to your baker or caterer about which options are doable. As a good rule of thumb, a smaller wedding likely has more wiggle room for multiple flavors while a larger wedding may be easier to serve with just one.
Now you know all about the different types of wedding cake flavors!
Remember, at the end of the day, it's all about what makes you happy.
"Choosing a wedding cake flavor can be quite overwhelming considering the numerous options available," says Bogedin. "But it all narrows down to what you love the most. No magazine should dictate the flavor of your cake."
Ready to choose your wedding cake shape, size, and style? Check our complete guide to types of wedding cakes. Then, explore 57 of our favorite all-encompassing wedding cake ideas, and don't forget to top it off with our guide to wedding cake toppers.