Jun
14
23 Mountain Wedding Ideas You Have to See
Jun 14, 2022
By Wedding Spot
Not into beaches or backyards for your outdoor wedding backdrop? If the vision of your dream wedding includes more land than sea, you may want to consider a mountain setting or, better yet, tie the knot on a literal mountaintop. That's where these mountain wedding ideas come in. 
Let us help you embrace your adventurous side and host your wedding high in the sky on your favorite mountain using these practical tips, ideas, and examples. Keep reading to discover how to plan an unforgettable mountain wedding, and discover our curated selection of mountain wedding ideas for decor elements and experiences that will take your celebration to new heights!
Wow guests with these unforgettable mountain wedding ideas
Nothing compares to the breathtaking views, fresh air, and lush vegetation you get to experience at a mountain wedding. Whether you want to recite your vows on a snow-capped peak or in a rustic indoor ceremony, you can use all of these natural aspects as inspiration when planning your big day!
Here are some of our favorite mountain wedding ideas broken down into categories.
Unique mountain wedding ideas for any celebration
In our first section, we explore mountain wedding ideas that fit just about any mountain-based celebration and aren't specific to certain themes or elements. 
1. DIY vintage thermos place cards
Place cards are an essential element of your seating arrangement, but they don't have to be boring pieces of paper. Before the wedding, search for vintage or custom print wood tumbler options and personalize them with your guests' names. These look great and double as an eco-friendly wedding favor.
2. Use forest animal imagery
Getting married in the mountains? Consider incorporating local animals into your wedding decor and stationery. For example, you can create custom table number cards in the shape of animals. Or, have animal-themed save-the-date cards and wedding invitations. It's proof that you can add a nod to the mountains with even the tiniest details.
3. Play with earthy textures and prints
For example, you can mix stone top mission side tables with wood lounge chairs and faux fur throws to create a snuggly atmosphere at the reception. Throw in some floral and foliage print fabrics or pillows too!
4. Grab a mountain-shaped ringbearer pillow
Sometimes, the smallest details can make a big impact — and certainly good keepsakes. Order or make a custom-themed ring bearer pillow made in the shape of a mountain.
5. Offer flannel blankets
When planning the perfect mountain wedding, make sure to consider the temperature and your guests. Place a basket at the ceremony location with small flannel blankets if you're getting married during the colder months. 
6. Add an outdoorsy saying to your cake topper
A beautiful rustic cake will be the perfect addition to the culinary experience at a mountain wedding, and adding a themed unique cake topper will complete the look. For example, this delightful one from Etsy says "our adventure begins".
7. Use themed signage
Wedding signage is an essential element for outdoor weddings, especially when cell phone service is limited or your wedding venue grounds are huge. Use tree-shaped signage or add some cute forest creatures to your design to make all the signs you'll need. These include signs for parking, ceremony, and reception locations.
8. Add a stargazing lawn
Perhaps our favorite of all the mountain wedding ideas on this list, consider adding a stargazing lawn to your reception space, because who said the beauty of the mountains has to end at sunset? With less light population than more populated areas, you and your guests can enjoy the night sky and glittering stars from your stargazing lawn at the reception. Set up adirondack chairs, picnic blankets, and a handful of telescopes you can use to explore the stunning scenery.
Take it a step further and hire an astronomist to educate guests on constellations, an astrologist to read your guest's star charts, or both!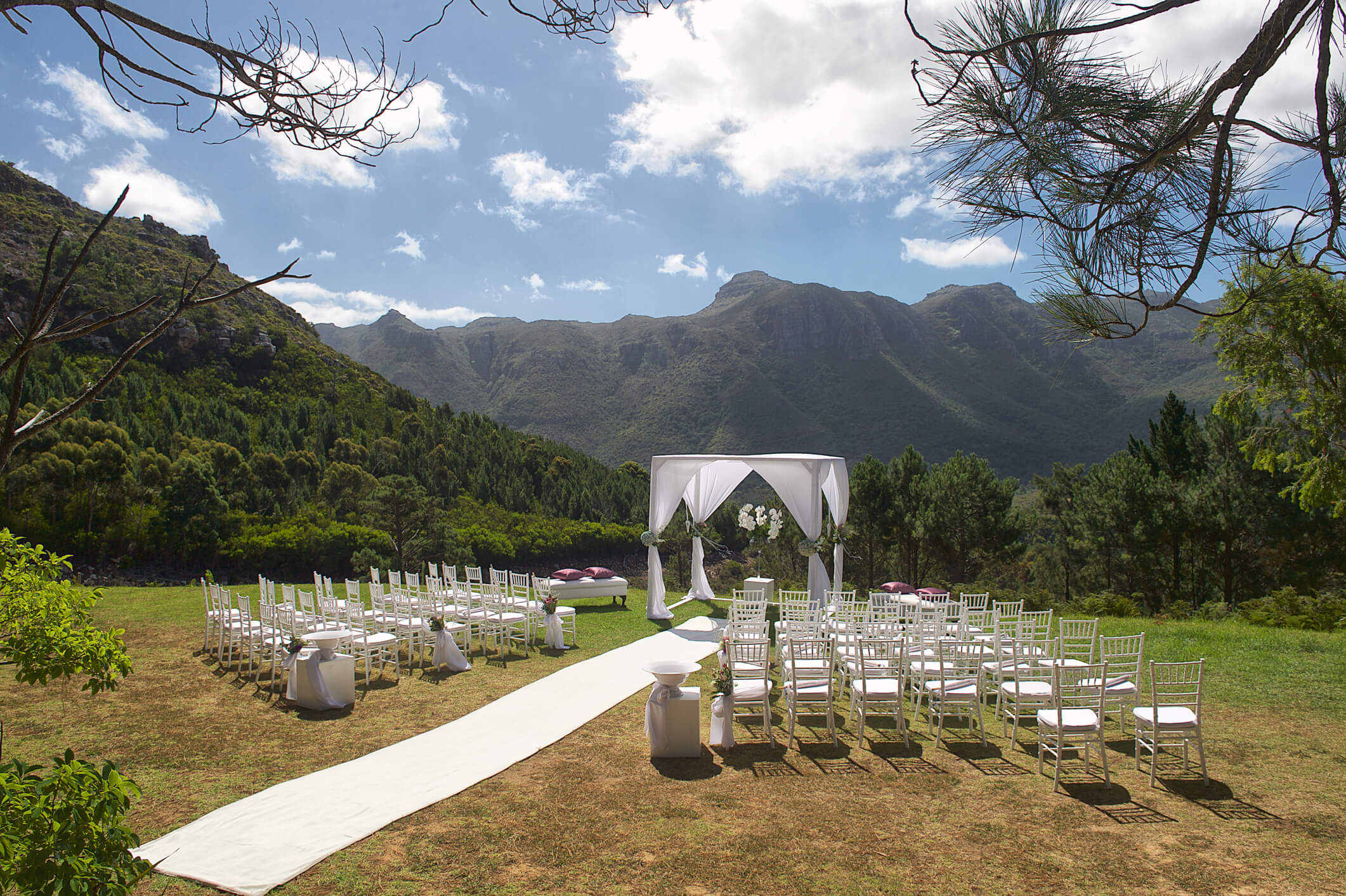 Nature-filled mountain wedding ideas for decor
Even if your mountain wedding takes place in winter, you'll want to bring as much of the outside in as you can to make your theme truly come together. Here are some lovely ideas for mountain wedding decor that you can use as inspiration any time of the year.
9. Make your aisle organic
When you're saying "I Do" on a mountaintop, you won't have to add too much decor. Instead of overloading on organza and disco balls, opt for an organic aisleway design instead. For example, simply creating a grounded floral arch with white blooms adds the right amount of whimsy and romance without distracting from your vows and the majestic mountains.
10. Use a simple branch wedding arch
When natural beauty surrounds you in 360 degrees, you might not want to add a big altar that will block the view. Instead, consider keeping your wedding arch simple. For example, you can create a wedding arch out of branches for a rustic and beautiful setting for your vows.
11. Choose loose floral arrangements
Loose wedding bouquets are natural and have a "just-picked" style perfect for outdoor weddings. While it depends on the rest of your theme, perfectly-curated bridal bouquets may be a little too manufactured looking for this setting, so embrace your wild and adventurous side with a wild and adventurous arrangement.
12. Add picnic tables
If you've chosen a mountain wedding setting with sprawling, grassy fields and epic views of the mountain terrain, then an al fresco wedding reception is a must. For a romantic and whimsical feel, use soft linens and rustic chairs to create a stunning dining experience. But make sure to weigh the linens down because the higher elevation brings wind. Beautiful flowers in weighted pots are sure to do the trick.
Stunning must-try mountain wedding ideas for photography
When you're tying the knot on a majestic mountain, you will have photo opportunities at every turn. Before the big day, create a list of photos you want your photographer to capture. Then, you can have breathtaking pictures with your bride tribe or the groom squad with all the stunning natural beauty. Not only will you cherish these images, but your best friends will, too!
13. Let the mountains be your ceremony backdrop
Ok, let's face it: Choosing a mountaintop for your wedding ceremony is all about the view. Your venue likely aready has areas dedicated to ceremonies but if not, feel free to tour the venue and select the most breathtaking part of the view for your ceremony backdrop.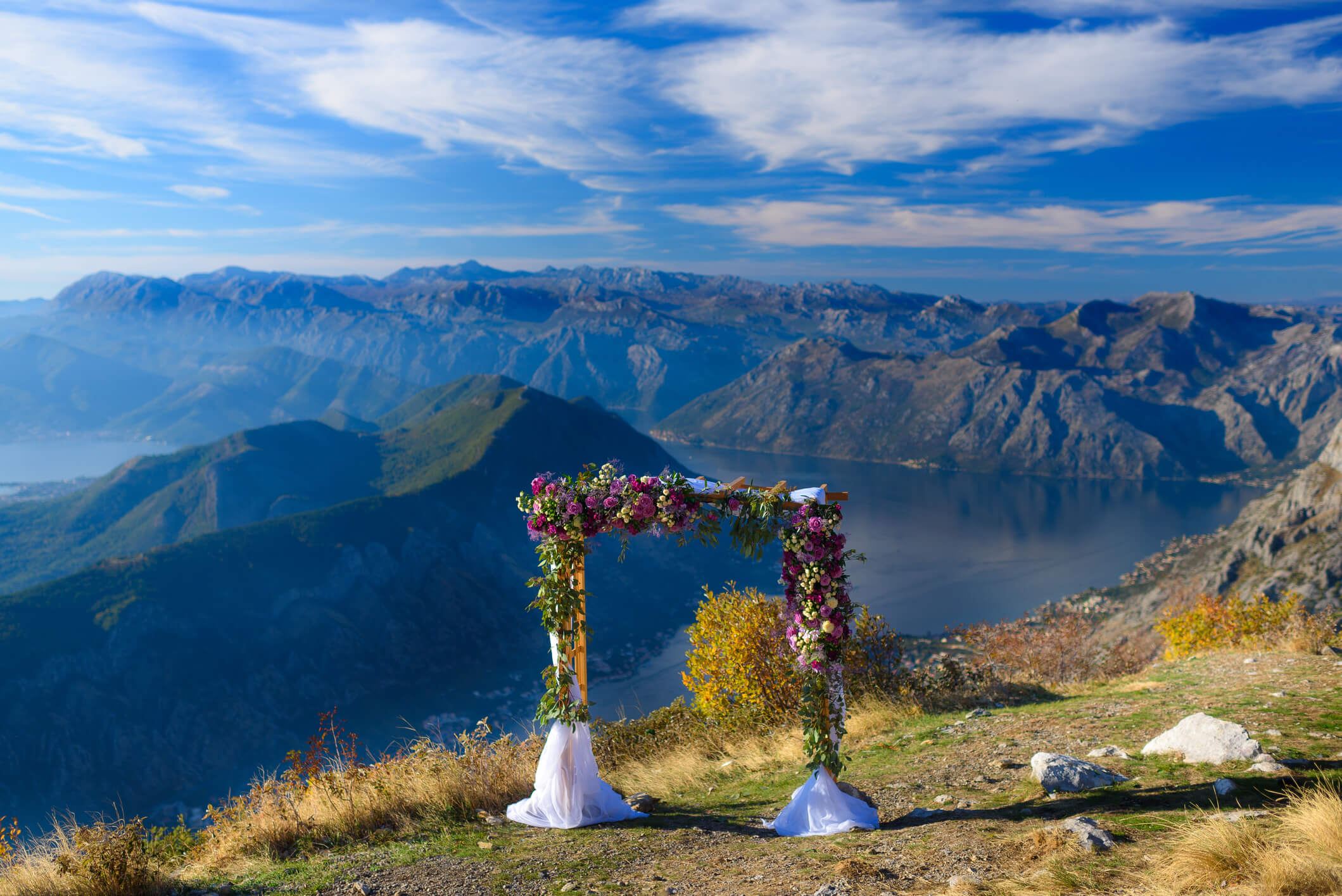 14. Chase those waterfalls
Another incredible way to embrace nature and create a fantastic wedding photo album is to use any waterfalls or waterways that are close to your mountain. Lakes, streams, and rivers make a fantastic setting for wedding photos with a mountain backdrop. Whether you go moody or romantic, mountain wedding photos taken in front of the water are simply priceless!
15. Frolick in some fields
Chances are your mountain wedding venue is located near a field. Bonus points if there are wildflowers blooming in it. Use this area to take candid shots of you and your partner laughing and walking through the grassy landscape.
Mountain wedding attire ideas we love
Although we love long sleeves and hiking boots, it's not every couple's dream wedding dress code. So, we've come up with some ideas to fit plenty of different styles. 
16. Make it a black-tie event
Sure, most people immediately think of a relaxed and rustic wedding when you mention an outdoor setting like a mountain. But it's your day, so if you have always dreamt of a black-tie affair, then do it! A timeless white and lacy wedding dress or a classic black tux will do the trick.
17. Pick a sub-theme
A sub-theme is basically whatever adjective you want to put in front of the words "mountain wedding". Popular choices include rustic, elegant, and romantic. Use these words to determine what style of attire your wedding party will wear.
18. Embrace florals
We love floral fabrics, and if you've got sky-high spruce or redwood trees behind you, you'll sure to look perfect in all of your photos. If you prefer not to do all-over floral for your wedding dress or tux, consider adding a floral print accessory such as a pocket square or headband just in case the wind picks up.
Mountain wedding venues that will take your breath away
Looking for a mountain wedding venue that is stunning, elegant, and near you? We've collected examples of real venues you can book all over the country to set the perfect backdrop for the nature-themed wedding of your dreams.
19. Black Oak Mountain Vineyards
Location: Cool, CA
Black Oak Mountain Vineyards offers jaw-dropping scenery, luxury accommodations, and a unique wedding experience. With 150-acres of pristine terrain, this mountain wedding venue is perfectly suited for an extra special multi-day wedding experience filled with hiking, camping, and bonfires!
Location: Golden, CO
If an affordable and adventurous mountainside wedding sounds perfect for your special day, check out the historic Boettcher Mansion. This stunning stone lodge is an ideal setting for a nature-loving couple who wants to give their wedding a distinct woodsy feel. It's a breathtaking environment for your "I Dos."
Location: Colorado Springs, CO
For a spectacular and romantic wedding, Cheyenne Mountain Resort mixes beauty and elegance with the magnificent and commanding view of the Rocky Mountains. From gorgeous photo backgrounds to gourmet food dishes to stunning views, this mountain wedding venue really takes the cake.
Location: Olympic Valley, CA
Walk down the aisle with a view of the beautiful vistas of Squaw Valley, towering ponderosa pines, and majestic mountain peaks in the background. At the Resort at Squaw Creek, you'll experience jaw-dropping mountain ambiance plus elegant decor completely enveloped in nature.
23. Hawkesdene
Location: Andrews, NC
It's hard to have a "Best Venues for a Mountain Wedding" list without including at least one venue that's located in the Asheville, NC area. The Hawkesdene is a private and luxurious 54-acre mountain wedding venue with views that will impress everyone. Just two hours west of Asheville and two hours north of Atlanta, this mountain wedding venue offers exclusive privacy, on-site accommodations for up to 102 guests, delicious cuisine, and unforgettable experiences.  
Plan the celebration of your dreams with these mountain wedding ideas!
Next up, stick with the outdoor vibe and explore these 63 outdoor wedding ideas for any couple.